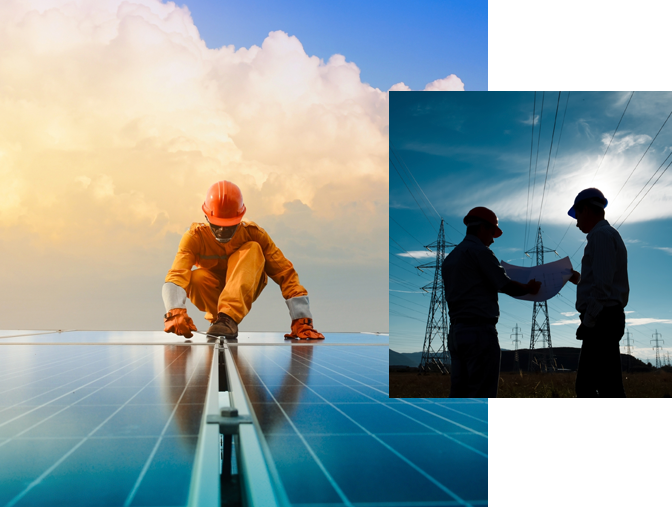 ADVANCE CONNECTION CORPORATION
PUBLIC COMPANY LIMITED
ACC increases investment into diversified businesses which  makes the company's revenue increasingly by the management team and potential team. Therefore, ACC ensures that our business will be sustainable growth and deserve investors.
Vision
Create sustainable investment value and add value through good corporate governance.

Milestones
2016
First Real Estate Project
The first project was developed under the name "Town Line Sattahip" in Sattahip, Chonburi province. The sales trend is well and expect to recognize revenue in year 2017.
2016
Solar Farm Investment 5.5MS
EGM of Shareholder on March 11, 2016 approved to invest in the Saraburi Project Group of Companies, operates in solar power on the ground (Solar farm) with a capacity of 5.5 megawatt.
2015
Setup new subsidiaries for other business
Set up ACC Green Energy Company Limited in energy business for project development of other renewable energy, which registered with MOC since 18 May 2015. Set up ACC Electric Company Limited in trading business for business expansion on other trading businesses, which registered with MOC since 21 May 2015. Set up ACC Landmark Company Limited in real-estate business for development and preparation of other properties projects in the future, which registered with MOC since 21 May 2015.
2015
Expand to Solar roof top business
In 2015, CEI acquire the shares of W.SOLAR from Wyncoast Industrial Park Public Company Limited ("WIN")  in total amount of 3.92 million shares at par value of 10 baht per share in proportion of 49% of registered capital and total shares sold in amount of 39.20 million baht. The project is to generate 1 MW of electricity and sell to Provincial Electricity Authority ("PEA').
2015
Change name to ACC
The Company change its name and its seal to "Advanced Connection Corporation Public Company Limited" and also change securities abbreviate name to "ACC" to comply with business operation policy in the future.
2014
Set up CEI Chaingmai
In 2014, CEI set up and registered the Subsidiary- C.E.I. (Chiangmai) Company Limited for asset investment both land and building included with other assets to support for the project of cultural center, food & restaurant, and Lanna Show (Khum Khantoke) – food & restaurant business and Lanna cultural show.
2010
Factory sold (partially)
In 2010, CEI sold the land and building at factory located 290 Moo 4, Bangpoo Industrial Estate, Soi 5B, Sukhumvit Road, Prakkasa, Muang, Samutprakarn to Murakami Ampass (Thailand) Company Limited.
2009
2009 Invest in SWR
In 2009, CEI invested in Siam Water Company Limited, which later changed to Siam Water Resources Public Company Limited ("SWR"). CEI has 45 million shares in the amount of 49.95 million baht with the ratio of 8.93% of registered capital.
2009
Loan to TRC
In 2009, CEI loaned the money and engaged a contract to Thanya RungRueang Chai Rice Mill (Thailand) Company Limited ("TRC") in the amount of 70,000,000 million baht.
2009
Sell out China subsidairy
In 2009, CEI decided to sell out Subsidiary in the People's Republic of China due to the global economic crisis.